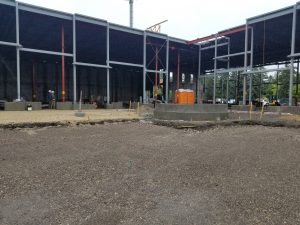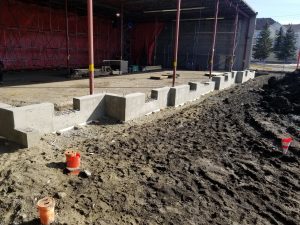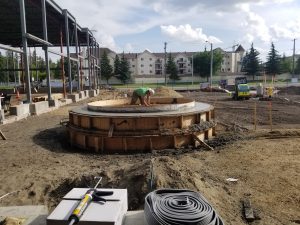 circular concrete fountain
Complicated, crenelated grade beams!
We have completed our last project as Jutras Construction, and have helped to bring about the soon-to-be beautiful Manchester Square building located on 107 ave in Edmonton. The amount of detail in the concrete work is incredible, and we nailed it!!!
The intricate grade beams that support the building were designed not just for structural steel, but also to carry the detailed brick facade on an aesthetic exposed concrete base. Without question, these were the most detailed grade beams we have ever seen.
The final piece is a large circular fountain on a sloped base. (Most fountain bases will drain towards a central point: This one slopes 3 1/2″ towards a side drain. –Try standing a vertical circle on a slope.)
This is some of the highest-quality concrete formwork you will see in and around Edmonton. We are very proud of the job we have done. A big thank you to Garth at Apex Contracting for making this possible.